MISSION, KS – March 21, 2018 – In order to create the ideal car-buying experience for all customers and help get better insights into their preferences, VinSolutions has launched Enterprise Customer for Connect CRM and the new Connect Mobile app.
Enterprise Customer, an all-new capability within VinSolutions' award-winning Connect CRM, gives dealers a holistic view of customer profiles and all related activities across dealership group rooftops.

The new features – including an intuitive group-level customer record viewer, a summary of customer Connect Desking activity and improved data matching – allow dealers to gain deeper insight on customer behaviors at all of their stores through Connect CRM, which adds consistency, knowledge and speed to every deal.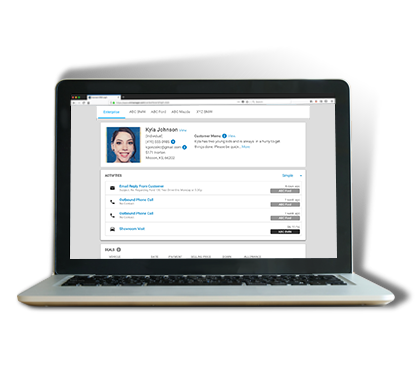 Enabling Enterprise Customer delivers insights you need to drive more sales and profitability.
Watch the Video
In addition In addition to Enterprise Customer, VinSolutions has also released a new Connect Mobile app, which streamlines the process for accessing and collecting customer information.
The new app, available for download now from the Apple Store and the Google Play Store, allows salespeople to quickly and accurately collect customer information on their mobile devices, without ever leaving the customer's side. The new streamlined, intuitive interface and centralized appointment calendar help salespeople better meet customer expectations for a fast, efficient car-buying process.
These new capabilities demonstrate VinSolutions' ongoing commitment to enhancing their industry-leading CRM, improving dealer productivity and helping dealers offer better experiences for their customers.
"At VinSolutions, we prioritize staying aligned with the needs of our customers and the shifts in the automotive retail industry," said Chase Abbott, Vice President of Sales at VinSolutions and Dealertrack F&I. "We know dealer groups need a seamless way to view customers across their rooftops – without having to sift through multiple CRM instances – and we know all dealerships need a way to empower their staff with intuitive mobile technologies. Enterprise Customer and the new Connect Mobile app meet those needs, and they help dealers build and nurture relationships."

Both Enterprise Customer and the new Connect Mobile app are available to current and new Connect CRM users at no additional charge.

About VinSolutions
As the provider of Connect CRM, a leading dealership customer relationship management system, VinSolutions helps more than 5,000 dealers make every connection count. VinSolutions products integrate dealership systems, processes and tools to deliver a single view of the customer across the business – so dealers can focus on building relationships throughout the sales cycle. Founded in 2006 and headquartered in Mission, Kansas, VinSolutions fosters dealership success by providing a fully customizable suite of solutions, including equity mining, market pricing and desking tools, combined with the continuous, personal support of a designated Performance Manager. VinSolutions is OEM certified by every major manufacturer and is Autosoft, CDK, Reynolds & Reynolds and Dealertrack DMS certified.
About Cox Automotive
Cox Automotive Inc. makes buying, selling and owning cars easier for everyone. The global company's 34,000-plus team members and family of brands, including Autotrader®, Dealer.com®, Dealertrack®, Kelley Blue Book®, Manheim®, NextGear Capital®, VinSolutions®, vAuto® and Xtime®, are passionate about helping millions of car shoppers, 40,000 auto dealer clients across 100+ countries and many others throughout the automotive industry thrive for generations to come. Cox Automotive is a subsidiary of Cox Enterprises Inc., a privately-owned, Atlanta-based company with revenues exceeding $20 billion.