Any big decision requires time and research. Most of us looked at many houses before buying one. You probably went on a lot of dates before you got married. Your customers spend hours shopping online before they ever contact your dealership, let alone buy a car.
We do so much research on big decisions because there are consequences – usually in the form of lost time and money – for choosing something that is the wrong fit for our needs. Choosing a CRM for your dealership is no different. The wrong choice can leave your staff and customers frustrated, while the right choice drives success and improves customer relationships.
Finding the right CRM to help you manage your customer relationships requires some homework. As you research the right CRM for your business, you must get to know your needs, your customers and your CRM provider.
Get to Know Your Needs
Every dealership is different. Needs vary depending on market size, business size, OEM affiliations and other factors. But perhaps most importantly, your dealership's unique business strategy will impact the way you utilize a CRM. Ask these questions to find a dealership CRM that perfectly fits your needs:
What internal business processes will your CRM support?
What are the basic technology requirements at your dealership?
What other systems will the CRM need to integrate with?
Will the CRM be easy to use?
Your answers to these questions will help you find a CRM that can eliminate inefficiencies, increase feature utilization, and drive better business results.
Get to Know Your Customers
Understanding your customers and how they prefer to interact with you can help you cater to their preferred communication methods. Think about the ways a CRM can facilitate customer communication:
In-Person: A CRM that logs in-person and over-the-phone interactions is a no-brainer.
Online: Look for a CRM that integrates with your website and other dealerships software platforms to facilitate the online buying process for both your staff and your customers.
Texting: Many customers prefer to communicate via text message. A CRM with text messaging, including the ability to send photos and videos, can take your communications and customer insights to a new level.
CRM Artificial Intelligence: The best CRMs offer artificial intelligence features that can analyze customer sentiment and reveal buying signals, so you can give your customers a better buying experience.
Get to Know Your CRM Provider
I've seen many dealers make the mistake of choosing a CRM that they thought was "good enough." But if your CRM is "good enough" or "just OK," there is a good chance you're managing "just OK" relationships with your customers. Find a CRM provider that will:
Offer personalized, responsive support.
Provide your dealership with dedicated Performance Management to improve CRM utilization and improve business performance.
Stand by its product with a short-term or no contract.
Buying a CRM is a big decision. And like any big decision, it takes research to get it right. Ask the tough questions and weigh every consideration of a quality provider until you find a CRM that will fit your unique business needs while also giving your customers a better buying experience.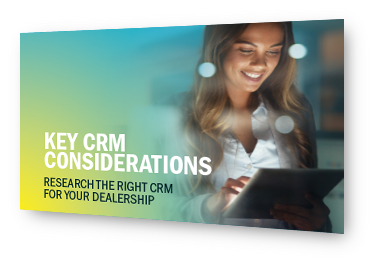 Download our free guide to learn more about choosing the right CRM for your dealership.
Download Now