It is an all too familiar sight: a huddle of salespeople standing around the purple gorilla in their sales lot, chitchatting and waiting for customers to wander in.

Not too long ago, this dealership setup was effective. Customers shopped by walking into showrooms and browsing the vehicle selection. This is simply not the case today. Many dealers fail to realize that by the time the modern customer arrives on a dealership's lot, they are already deep into the car-buying process.

According to Cox Automotive's 2017 Car Buyer Journey Study, customers spend an average of 60 percent of the car-buying process – nearly nine hours – online. More than half of all buyers only test drive one vehicle, and 38 percent of buyers only visited the dealership they purchased the vehicle from. The average customer only spends 21 percent of the process with the dealer they buy the car from.

Is your dealership set up to be proactive and make the most of that 21 percent of customers' time? Or are you stuck in old processes built for old customer shopping patterns?

A Connected Experience
Because customers spend so much of the car-buying process online – often going beyond browsing to providing key information – it is critical that your dealership is set up to recognize all that work. Far too often, customers connect with a salesperson via email or submit forms online, only to find that no one has any idea who they are or what they're looking for when they show up at the dealership.

This failure to connect the online and brick-and-mortar shopping experiences forces salespeople to start from square one, denying them the opportunity to proactively offer solutions based on customer needs.

Most dealerships are already using CRM software like VinSolutions Connect CRM, but many aren't configured to take customers' website activity into account. You can fix this by ensuring your CRM integrates your other dealership software platforms. Connect CRM integrates with a number of key dealership software platforms, including Dealertrack, Dealer.com and Xtime, to give you'll receive a full view of each customer – complete with online and offline activity – which allows you to better anticipate customer needs and wants.

The Right Staff
Creating a dealership for today's customer means evaluating more than just your technology and infrastructure; it also means evaluating your staff and their behaviors.

Because customers now do so much of their own research, the role of a dealership salesperson has shifted. Customers are no longer looking for a salesperson to walk them through every single feature of a vehicle; most customers have already reviewed all of a car's features on their own. Today's customers are looking for consultants, someone who will honestly answer their questions and work to find the best options for their individual needs.

With this shift in role and customer expectations comes a shift in the skill sets necessary to succeed. Take a good, hard look at your team. Reviewing CRM usage and activity can often be a great place to start, as usage trends can often raise red flags to broader issues. Once you've identified opportunities for improvement, work toward making adjustments that enhance customer experience.

A Proactive Approach
Continuing to run your dealership "the old way" won't cause anything to fall apart. But it will allow your more progressive and proactive competitors a chance to move in on your customers.

Today's most successful dealers aren't waiting around for an emergency or an urgent reason to update the way their dealership operates. The most successful dealers understand the power of proactivity. These dealers recognize that proactively making improvements can significantly impact their bottom line, despite the post-peak market conditions. So if you don't think you need to make these changes to your dealership yet, just keep in mind that your competitors are probably adjusting – and taking your customers in the process.

When you "Go Pro" by proactively reconfiguring your dealership to anticipate customer needs, you're setting yourself up for success in any market conditions. So don't stand around admiring your purple gorilla. Go Pro, and create the dealership today's customers want.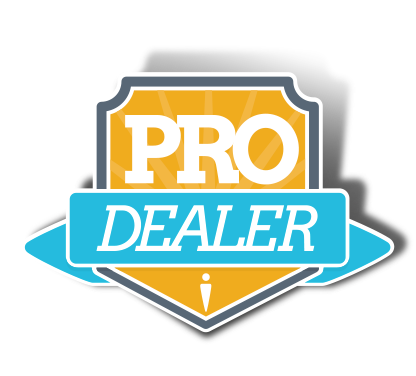 Are you ready to take control of your dealership to PROactively win sales? Visit our Go Pro page for additional insights and resources.
Learn More