It's an ugly truth in our industry – customers don't like the car-buying process. According to a 2015 Autotrader Car Buyer of the Future Study, less than 1 percent of consumers like the current process. Why such overwhelming dislike? Consumers say buying a car takes too much time and is overly stressful and unpleasant.

Too often, customers walk into a dealership with an appointment that is not acknowledged. Or they spend time filling out forms online, only to find out those completed forms have been lost in cyberspace by the time they arrive at the dealership. Most importantly, too many dealers are failing to listen to what a customer wants in terms of make, model, color and trade-in – even after the customer has told the dealer all this information via email or in prior conversations.

But there's good news: dealers can greatly improve the car-buying process by simply making the most of the tools like VinSolutions Connect CRM that are already at their disposal.

Make It Personal
I often see dealers focus so much on speed of communications with customers that they sacrifice quality, but being thoughtful and thorough in communications with customers is critical. To provide customers the best experience, dealers must pay attention to information provided by customers and recognize what customers say they want.

Easier said than done – I get it. However, CRMs like VinSolutions Connect CRM are there to help. By entering every customer conversation into the CRM, everyone in the dealership can be on the same page in follow-up customer conversations. This not only makes the customer experience more enjoyable, but it also makes the car-buying process faster.

Remember Customers are People
Dealers also need to remember to treat customers as people and not just as buyers. Take the extra five minutes it takes to get to know something personal about your customers, like how many children they have or their dog's name. The extra effort will be noticed by customers, who will be more likely to buy from someone who invests a little extra attention in them. For example, if you have a customer whose lease is expiring, be proactive in reaching out to them and asking them what's next. This is how you build customer relationships which can result in a lifetime customer.

Use the CRM
Your most powerful tool in personalizing and adding efficiency to the car-buying process is the CRM, which houses all your customer data if you're logging interactions correctly. Leveraging the CRM, whether you're using VinSolutons Connect CRM or another solution, allows you to personalize communications, connect the digital and the physical informational touchpoints, and acknowledge what the customer has already done before they walk in the door – thus increasing satisfaction among your customers. That improvement may mean the difference between a customer once and a customer for life.

A version of this article originally appeared in AutoSuccess. Ready to learn more about making the most of your CRM? Give us a call at 877-786-6134.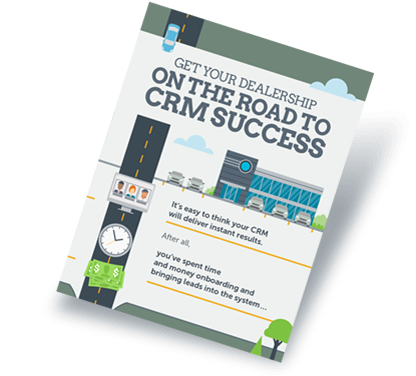 Stay on track with your CRM — keep focused on the metrics that matter with our guide.
Download the Guide