Family-owned Mohawk Honda has been serving the Schenectady, New York, community for the past 100 years. And the secret to the dealership's sustained success is their passion for providing a great customer experience. But as business got busier and customer data became harder to manage, the company knew they needed a new solution to keep customer experience a priority while continuing to grow the bottom line.
Mohawk Honda implemented VinSolutions artificial intelligence tool, Connect Automotive Intelligence, to help boost sales results, gain better insight into customer interests and intent, and enable salespeople to connect with customers at the right time with the right message.
Sales Results
Within a year of implementing Connect Automotive Intelligence, Mohawk Honda saw improved sales results. Prior to their Connect Automotive Intelligence implementation, the dealership's monthly sales goal was around 500 cars. Just over a year later, that goal became 700 cars per month.
The dealership even added seven new salespeople to keep up with business growth. Employees who have come on since Mohawk Honda implemented Connect Automotive Intelligence are using the technology to consistently sell 25 to 30 cars a month. Plus, with Connect Automotive Intelligence's enhanced manager dashboard, managers can follow up with salespeople to ensure their success and a superior customer experience.
Three Key Customer Indicators
Thanks to three key measures of customer behavior and intent—Engagement Strength, Sentiment Analysis and Buying Signals—Connect Automotive Intelligence has enabled salespeople and BDC representatives to be more proactive about identifying the best opportunities.
Buying Signals enables salespeople to share more relevant recommendations with in-market customers by delivering insights on which make and model an individual customer is most likely to purchase, as well as which customers are most likely to buy. Consumers classified as "ready to buy" by Connect Automotive Intelligence were nearly 10.8 times more likely to make a purchase within 30 days than consumers with inconclusive Buying Signals. In addition, for those consumers classified as "ready to buy" by Connect Automotive Intelligence, brand was correctly predicted 30 days prior to purchase for 84% of sales and model was predicted for 46% of sales.*
Engagement Strength helps BDC employees see where customers are in the buying process and better prioritize which customers to follow up with. Then, based on a recorded history of customer interactions, sales staff can reach out to answer questions, be of assistance, and make efforts to keep customers engaged.
Sentiment Analysis analyzes customers' emails and text messages to give salespeople insight into how customers are feeling about their interaction with the dealership, including which customers are trending up and which ones may be losing interest.

Right Time, Right Message
Mohawk Honda has always been willing to implement new technology as long as it aligns with the company's core values and furthers its customer and employee-focused business model. Mohawk Honda has been impressed with how Connect Automotive Intelligence has improved their customer interactions and job satisfaction at the dealership.
Specifically, Connect Automotive Intelligence has helped Mohawk Honda to gain insights into each customer's car buying journey. By aggregating customer data from Connect CRM and popular auto research sites Autotrader, Kelley Blue Book, and their own Dealer.com website, Connect Automotive Intelligence has helped Mohawk Honda salespeople better understand what customers are interested in and where they are in the buying process. This understanding has enabled salespeople to reach out to their customers at the right time with the right, relevant messaging.
With the help of Connect Automotive Intelligence, Mohawk Honda is overcoming obstacles inherent with business growth and delivering the type of experience their customers have come to expect.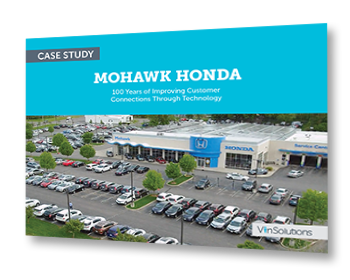 To learn more about how Mohawk Honda is driving growth with Connect Automotive Intelligence, watch the video below and read our full case studyhere.
Download the Case Study