Personalized. Customized. Targeted. These are key attributes of marketing campaigns that drive customer retention. And creating personalized, customized and targeted campaigns is a more attainable goal than you might think if you have the right tools – and know how to use them correctly.
With the wealth of data that can be stored in each customer record within a dealership CRM like VinSolutions Connect CRM, it's possible to develop highly specific campaigns to nurture your customer relationships.
Here's some of what you know about customers who have purchased a vehicle from your dealership:
The year, make and model of their vehicle
The terms of their lease or loan financing
Warranty expiration dates
Service milestones
RO information
You should also have an idea of your customers' preferred contact methods, whether you've asked them directly or drawn conclusions based on the results of past marketing efforts.
You probably know you have all this data, but many dealers struggle to turn information into action. That's where a data mining tool like VinSolutions TargetPro comes in. Marketing tools like TargetPro take all the customer data you have and provide actionable insights based on which customer segments have the highest potential to generate additional revenue. You can then develop highly personalized and targeted email campaigns to encourage the most appropriate revenue-generating activities for each customer.
Here are four types of offers that have been shown to help dealers improve customer retention:
Service reminders. Research shows that the average franchise dealership in the U.S. services five times as many cars as it sells. This stream of revenue can be nurtured through regular reminders of service due. Maintenance recommendations that have been previously deferred can also be brought back into play with an offer of a discount on service fees.
Equity offers. Any customer who has equity can be proactively presented with a detailed purchase offer. This can be an email or a printed document presented upon check-in at the service desk. Service lane offers give a salesperson the opportunity to talk to the customer in person while they're at the dealership waiting.
Accessories. Because you know the make and model of your customers' vehicles, you are in the perfect position to encourage the purchase of accessories. Customers who own certain brands such as MINI and VW are particularly eager to purchase additional products for their cars, according to David Greenly, e-commerce Director at Dorschel Automotive Group in Rochester, New York.
High APR. Identify customers who are paying a high APR for their loan and offer a deal that will lower their payments.
For best results…
There are other considerations that will help make your offers as effective as possible. These include:
Personalizing offers with photos of the vehicle being offered and comparing it with information about the customer's current vehicle.
Combining offers, such as including a service coupon in an email with a purchase offer.
Following up with a phone call to everyone who opened their email.
Assigning a sales representative to hand deliver each offer in the Service Lane.
Reviewing campaign results to measure ROI and determine which efforts are the most and least successful.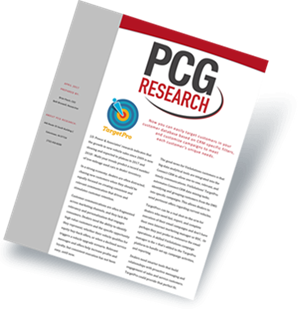 Want to learn more? Download our free research report, The Opportunity of Automation: TargetPro.
Download the White Paper