Recent conversation has been centered on the shift of customer expectations, and your dealership has been acting to deliver the digital experience car shoppers now prefer. While rethinking experience, there is one group you can't afford to overlook — your employees.
"Leaders need to convey a single mindset of where we're going and why it matters to help employees focus, align, and feel inspired," Lori Wittman, Senior Vice President of Cox Automotive Dealer Software Solutions, said in a recent Dealer Forward episode. "Engagement in a remote or socially distant environment is no different than engaging them at any other time. It's about building upon four key competencies."
According to findings from a Cox Automotive team dedicated to developing dealer leadership programming through Cox Automotive University, these four key competencies are:
Clarity: Focus, single mindset 
Communication: Frequency, direct and open dialogue 
Connection: The "why", understanding different roles and needs 
Collaboration: Coaching, feedback, idea sharing
 In the Dealer Forward episode, Jeremy Beaver, President of Del Grande Dealer Group, and Liza Borches, CEO at Carter Myers Automotive, shared what their dealership is doing to address each of these four points at their dealership.  
 Clarity 
Focus on the dealership's mission and purpose is core to having clarity, which can set the compass for decision-making.
 For Carter Myers Automotive, the defined purpose of moving lives forward – for their customers, associates, and community – gave the dealership team a solid foundation for decision-making, well before the challenges of 2020. With clarity about the dealership's mission, Liza and her leadership team had better direction on how to make dealership decisions as they managed social distancing.
"We've gone back to our values more than ever of putting people first, always progressing forward, and creating win–win partnerships," Liza said.   
Clarity of purpose has also helped to keep their employees engaged. The Carter Myers Automotive team has rallied behind their purpose — from shuttle drivers delivering meals to community members in need to hourly technicians offering to paint the service shops. Their people have continued to feel like what they do matters. They have continued to move lives forward.  
Communication 
From day one of shelter-in-place, Del Grande Dealer Group implemented open, honest, direct communication tactics to make sure information cascaded to the entire team. The dealership group instituted a daily Zoom meeting for the leadership team. Every day they meet to discuss the day, as well as strategies for moving forward and making tough decisions.
The dealership also got creative about keeping the entire team informed, as not everyone on the team checks their inbox regularly. Instead of relying on email, the management team created video messages and adopted text messaging. Now all team members are alerted by text when important information is shared, showing the team that leadership is listening, there is a plan to get through today's challenges, and they are preparing the organization to be stronger when they come out the other side.  
 Connection 
The ability to feel like you are in close contact with your team, even when you're working remotely, starts with the right technology. Carter Myers Automotive made sure employees had the right technology in their home to feel connected, with leadership challenging themselves to think about all the channels they can use to communicate.  
In addition to regular updates via a private Facebook group and new remote access to the company intranet, the employees of Carter Myers Automotive also receive a video message from Liza every few days. In the video updates, Liza shares business updates and asks employees to share the challenges they might be facing from home.   
While sometimes Carter Myers Automotive feels they may be over-communicating, Liza believes they have an opportunity right now. Their teams can get to know the company in a whole new way.
"Before, they used to just come into work, get their job done and leave, and now they're learning about who we really are," Liza said.   
 Collaboration 
The last of the four key competencies centers on how leaders can coach and give feedback to the team – a task not easily done when you're not in the same room.
Del Grande Dealer Group decided to take control and define exactly what their new normal would be and how they would help their team succeed at their jobs – today and in the future. While video chat and training were available before, the dealership group preferred to be together in-person to share ideas. With that option off the table, Del Grande Dealer Group is embracing virtual training and meetings. Through video meetings, they are ensuring their team members are prepared for the day and working to build future leaders.
Carter Myers Automotive has also gone all in on training, with a new emphasis on cross-training to increase efficiency.
"We've been cross training every sales manager to be able to deliver a car, and F&I managers need to be able to desk deals," Liza said. "We've taken sales associates further into the F&I process because if they're chatting with someone online and they get to a point where there are questions about products, we don't want them to have to say, 'Hold on a second, I'm not allowed to talk about that.'"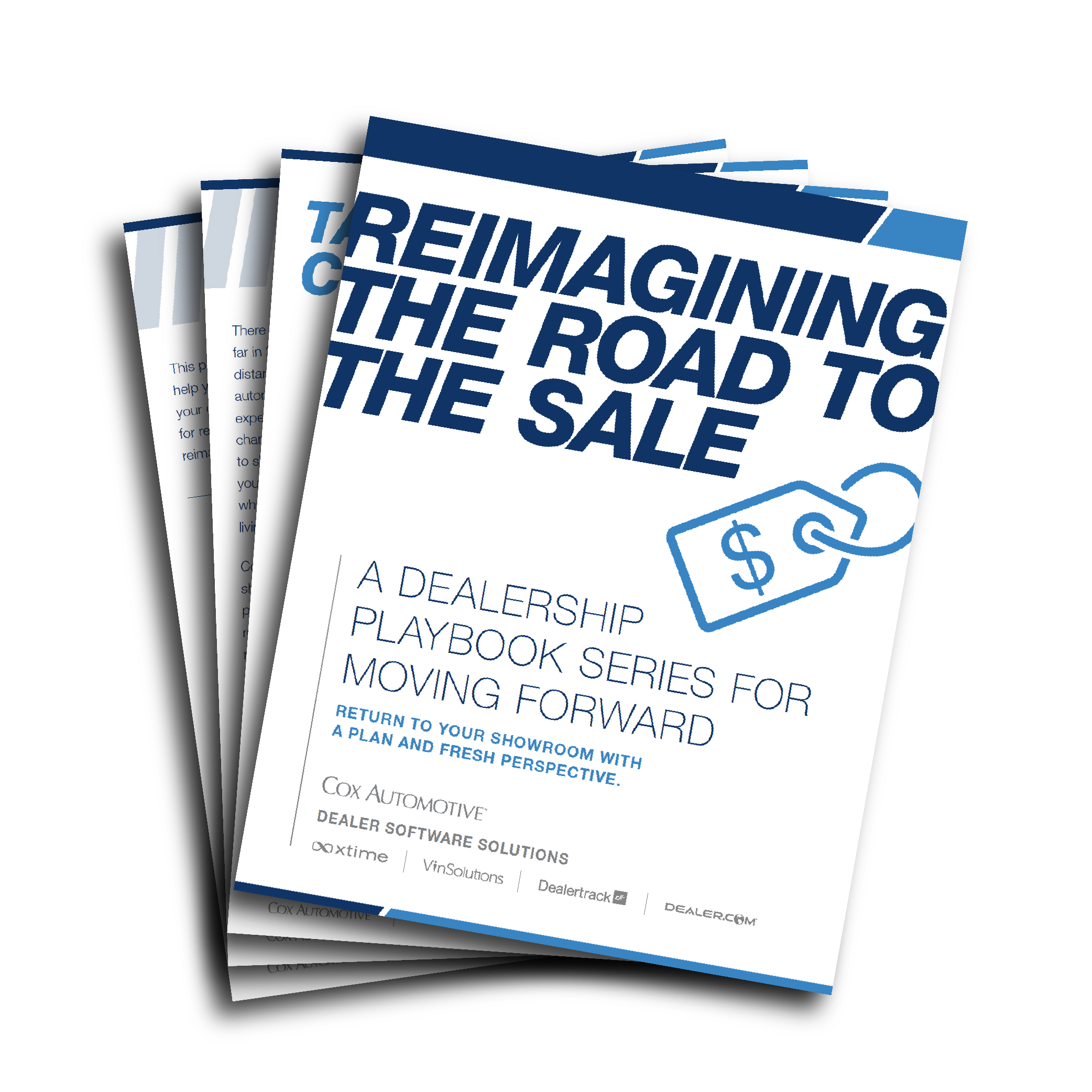 Tomoveforwardanddrive a digital transformation in your sales department, download our Sales Playbook.
Download the Playbook