CRM INTEGRATION WITH INSIGHT
Most dealerships have the data they need to create a personalized, relevant customer experience. What many lack are the time and resources to aggregate that data across their multiple dealership tools. Connect CRM integrates with other Cox Automotive software solutions and third-party partners to enable dealerships to turn data into insights, and insights into sales. What can CRM integration do for your dealership?
Explore VinSolutions' Integrations By: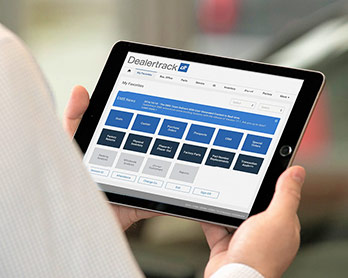 Sync customer and deal information between platforms
Dealertrack DMS
Consolidate data entry and improve the customer experience with an enhanced integration between Dealertrack DMS and Connect CRM, and increase sales opportunities with a repair order alerts integration.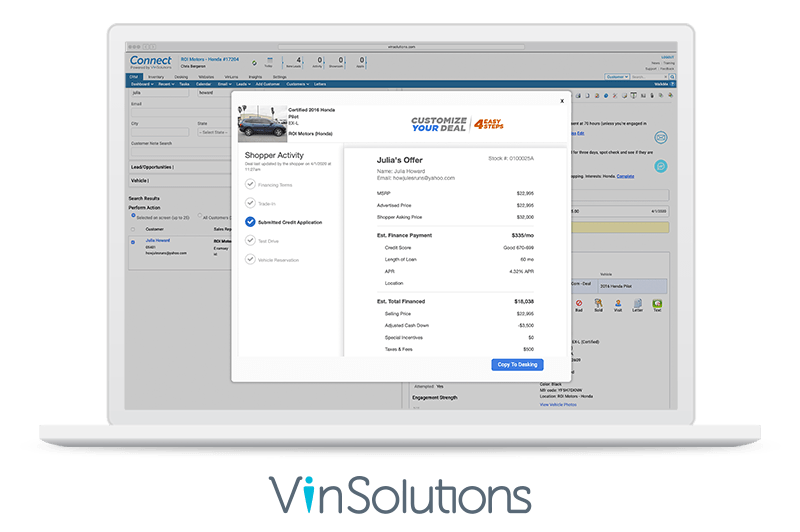 Enhance showroom and remote shopping experiences
Dealer.com Digital Retailing
With the integration between Connect CRM and Dealer.com Digital Retailing, you can pick up every online deal right where the customer left off in the customer record or Connect Desking. Streamline your deals with a seamless deal workflow that provides a single record of real-time shopper activity, automated shopper alerts, and a seamless data push from one system to the other.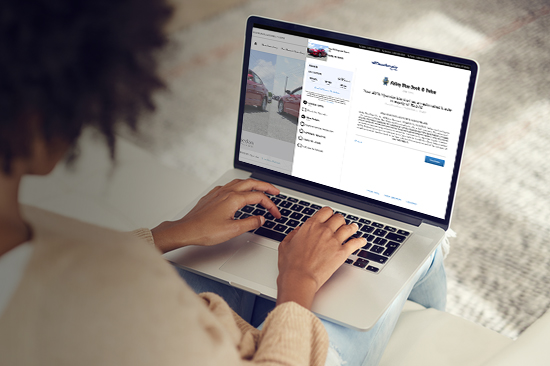 Get leads sent directly to the CRM
Kelly Blue Book
With the integration between Kelley Blue Book and Connect CRM, Instant Cash Offer leads are sent directly to the CRM, allowing you to save time and money by following up directly from tool. In addition, Kelley Blue Book data in Connect Automotive Intelligence exposes valuable customer insights that help your sales staff identify new opportunities.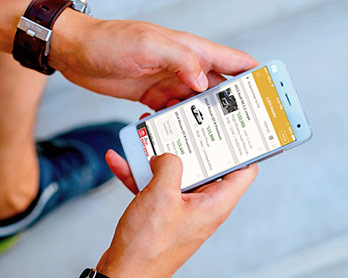 Create more customer-focused campaigns
Autotrader
With combined data from Autotrader and your DMS, you can automatically update vehicle ownership information in Connect CRM, reducing irrelevant sales and service offers.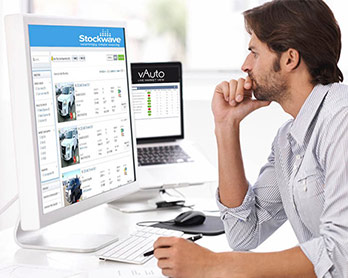 Match cars to customers
vAuto
With combined view of customer data in Connect CRM and live market data from vAuto's Provision, you can align your 
used car inventory
 with your customers' wish lists. Get real-time alerts when you're appraising a vehicle that's a match for someone in your database.
See the powers of integrations in action
We'll show you how Connect CRM and other Cox Automotive solutions work.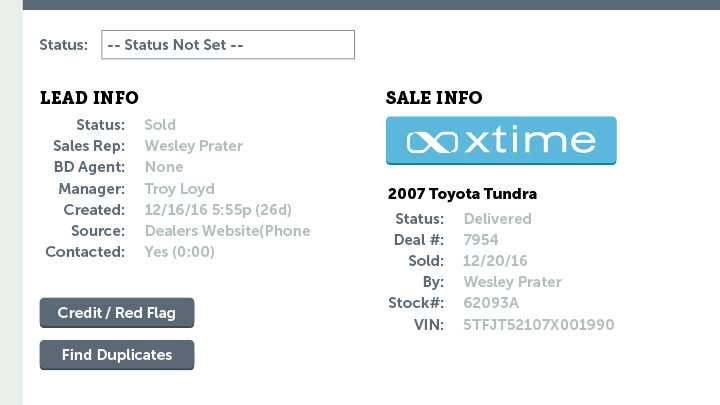 Cox Automotive Maintenance & Repair Study, 2016.
When you introduce customers to your service department at the time of purchase, they are more than twice as likely* to return to your dealership. Connecting your CRM data to Xtime's cloud-based service platform helps you market to customers based on their maintenance and service needs – and watch for new sales opportunities based on their service history.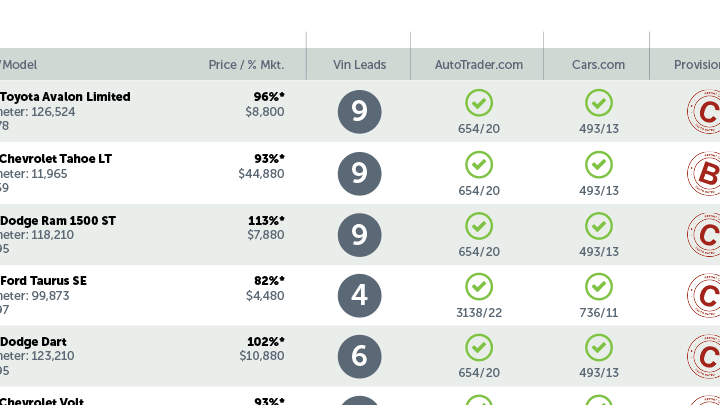 Cox Automotive Car Buyer Journey Study, 2018
55% percent of used car buyers and 40% of new car buyers are open to considering both new and used vehicles. Take your customers' wish lists from Connect CRM and match them with market data from vAuto's Provision® Suite to build the exact used car inventory your customers want and need.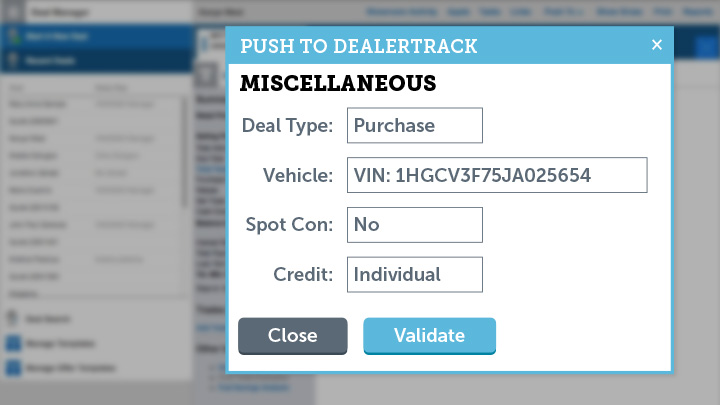 Cox Automotive Car Buyer Journey Study, 2018
54% of car buyers are dissatisfied by how long it takes to complete a purchase. When your CRM data is integrated smoothly into the F&I process, you streamline the paperwork and negotiations and improve customer satisfaction and retention.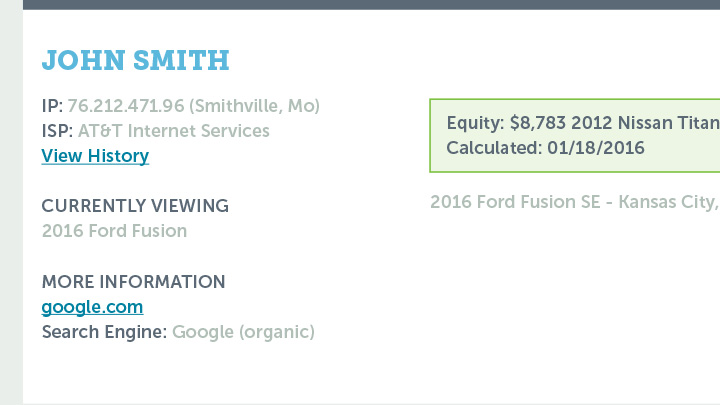 Cox Automotive Car Buyer Journey Study, 2018
Car buyers spend 60% of their shopping time online. Use VinLens to see when your customers visit your Dealer.com™ website so you can proactively reach out and keep them coming back for more.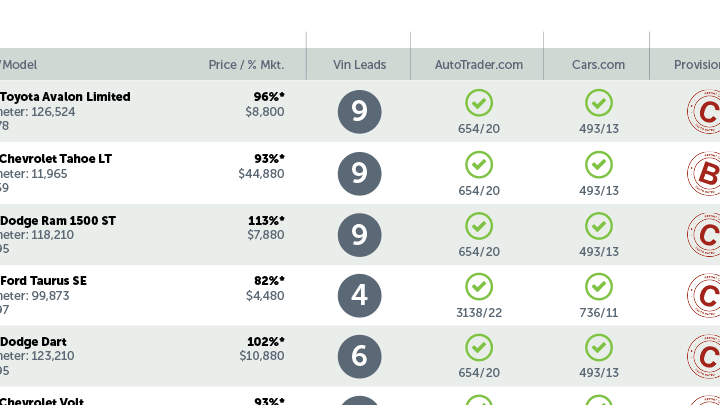 Cox Automotive Used Car Market Report & Outlook, 2018
Pre-owned vehicle sales have been increasing each year and that trend is expected to continue, so inventory planning is vital. Match customers' wish lists in Connect CRM with market data from vAuto's Provision to get real-time alerts any time you appraise a vehicle someone in your database is looking for.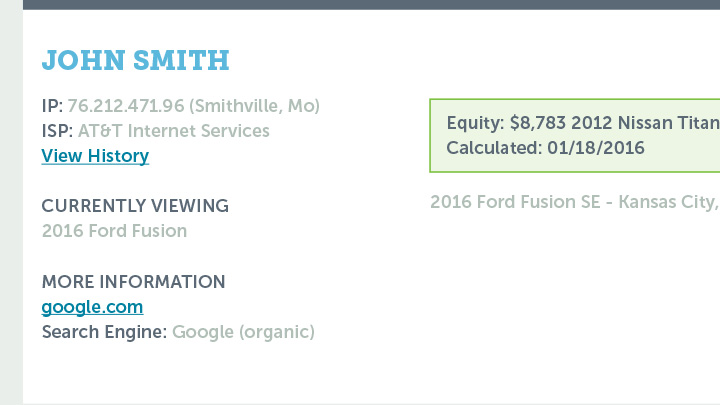 Cox Automotive Car Buyer Journey Study, 2018
With shoppers decreasing the number of days they spend in-market, it's vital to capture digital leads as soon as they visit your website. VinSolutions clients with Dealer.com™ websites can use VinLens to view customers' online behavior and use it to smoothly transition to the in-store portion of the sale.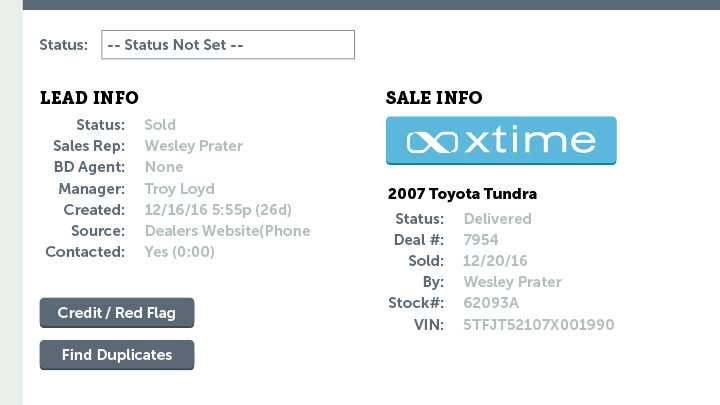 Cox Automotive Maintenance & Repair Study, 2016.
53% of dealership customers introduced to service department at the time of purchase said it influenced their choice to return later for service. Improve service retention with the Xtime button in Connect CRM, for one-click scheduling of each sales customer's first service appointment.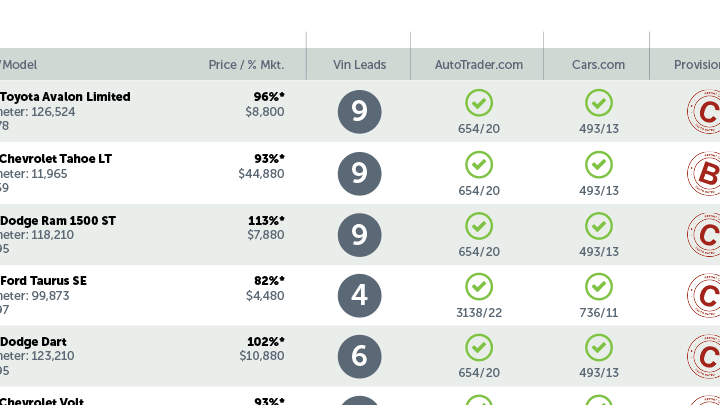 Cox Automotive Used Car Market Report & Outlook, 2018
Used vehicles are forecast to represent 70% sales this year, but there are significant supply constraints. By integrating your CRM data with vAuto's Provision, you can strategically tailor your used car supply to the wants and needs of your buyers, increasing revenue and reducing expenses from unsold inventory.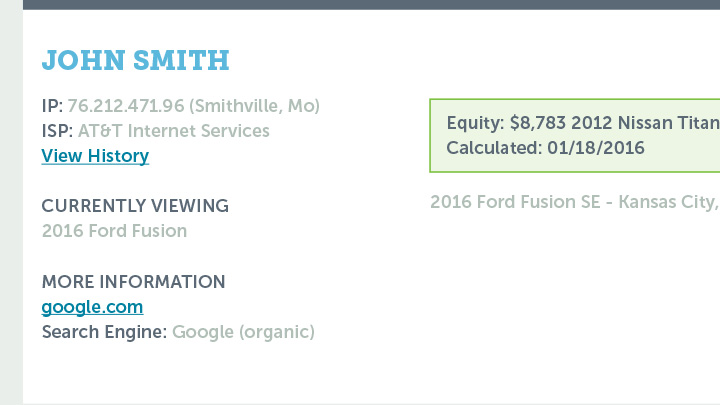 Cox Automotive Car Buyer Journey Study, 2018
53% of car shoppers visit dealership websites. Using the VinLens feature of Connect CRM with your Dealer.com website lets you track digital leads from their first visit to your site to the day of purchase. The more you know about your customers' browsing behavior, the more effectively you can market to them.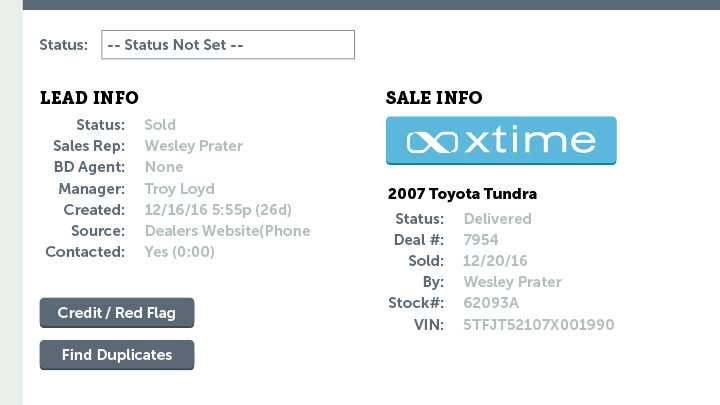 Cox Automotive Maintenance & Repair Study, 2016.
More than 50% of customers rely on the dealer for maintenance and service notifications. With data from your CRM combined with Xtime's cloud-based service platform, you can personalize marketing messages and offers to customers based on their vehicle's exact maintenance, service or recall status.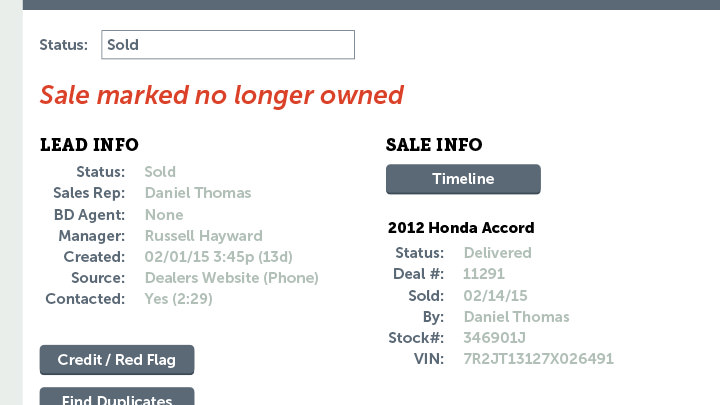 Global Data Management Benchmark Report, Experian, 2018.
52% of organizations maintain high-quality data to increase efficiency and improve cost savings. Data from your CRM combined with Autotrader vehicle data helps you save marketing dollars by eliminating offers targeted to the customer based on vehicles they no longer own.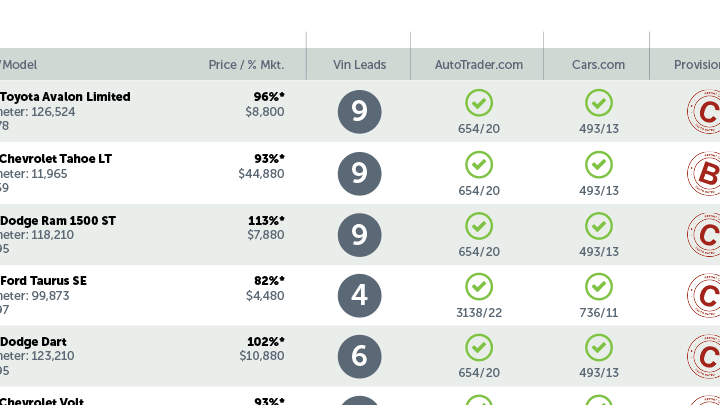 Cox Automotive Car Buyer Journey Study, 2018
56% percent of car buyers have previously owned the same make of vehicle. You can match your customers' wish lists from Connect CRM with market data from vAuto's Provision® Suite to be able to market to your customers as soon as you have the inventory they want and need.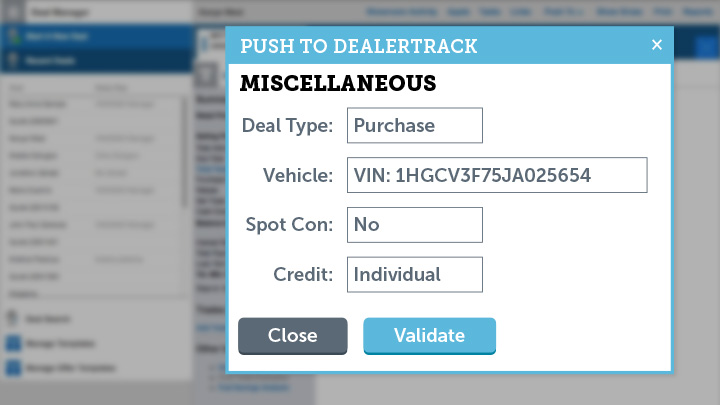 Cox Automotive Maintenance & Repair Study, 2016.
71% of consumers are more likely to purchase F&I products if they can research them at home before they visit the dealership. Getting detailed lead data into your CRM about the F&I protection products customers looked at online lets your sales team get a jump on offering products and services targeted to each customer – before they even walk in.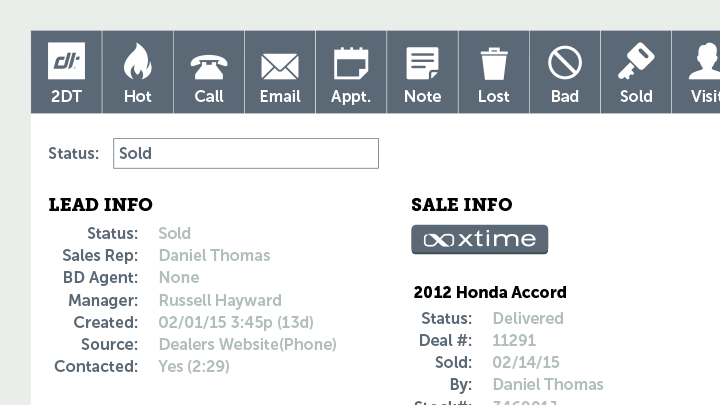 Global Data Management Benchmark Report, Experian, 2018.
41% of businesses cite cost reduction as their goal for working toward a single customer view of all their data. Integrating automatic customer record updates of Connect CRM data with Dealertrack DMS data saves on third-party data sharing fees and increases your data accuracy at the same time. Learn mor eabout how DMS integration can benefit your dealership.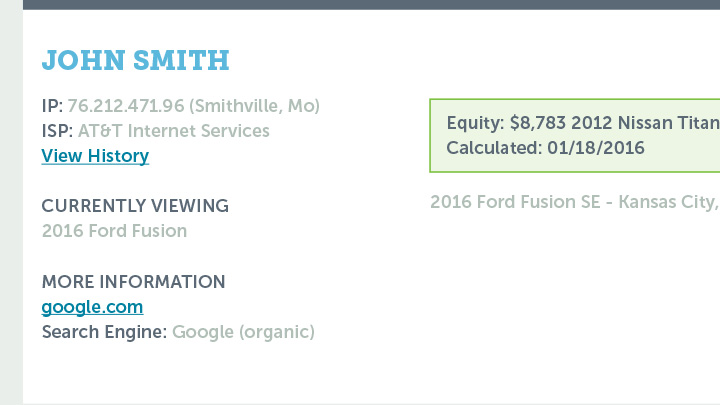 Cox Automotive Car Buyer Journey Study, 2018
Half of car buyers don't contact the dealership before their first visit. When you can see how shoppers interact with your Dealer.com website and include that information in the CRM records, it helps you pinpoint the best and most effective marketing and advertising messages for each customer.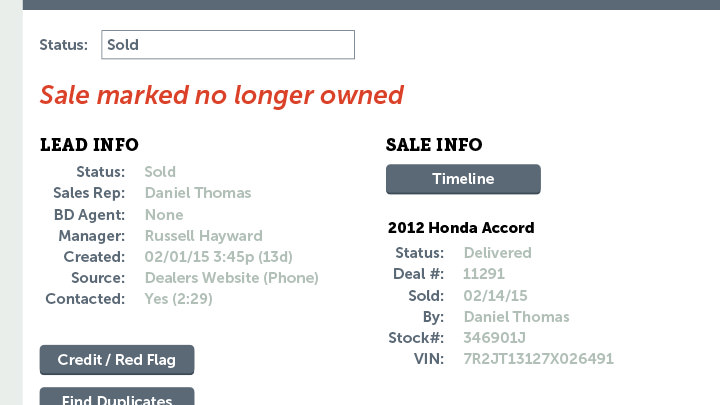 Dirty Data: Is your B2B Database Full of Rotten Apples?, Zoominfo, 2018
The 1-10-100 rule states that it costs $1 to verify a record as it's entered, $10 to scrub and cleanse it later, and $100 if nothing is done. When you combine data from your CRM with Autotrader vehicle data, you can save marketing dollars by eliminating offers tied to vehicles the customer no longer owns.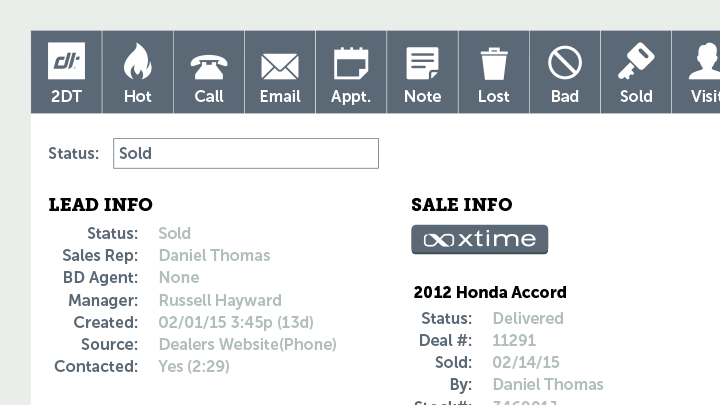 Trust Barometer Annual Global Study, Edelman, 2018
Customers who are loyal over time will spend 67% more than new customers. Integrating CRM data with Dealertrack DMS can help you identify and track your most loyal customers, prioritizing their marketing communications and offers to increase profits for your dealership.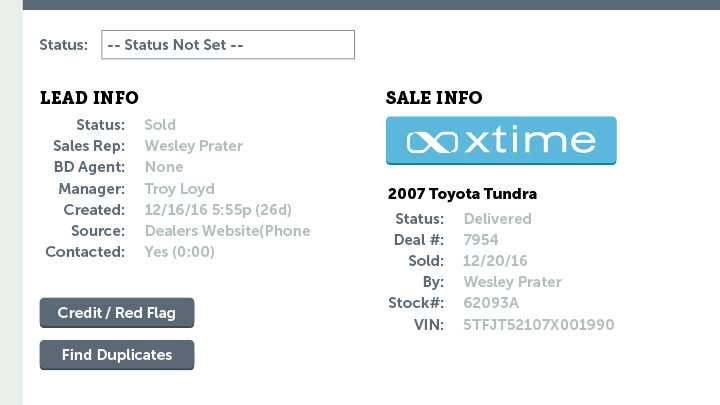 Cox Automotive Maintenance & Repair Study, 2016.
Only about 1 in 3 of all services visits are conducted at the dealership, but the potential to increase that number with targeted marketing is substantial. Data from the CRM integrated with the Xtime service platform lets you personalize marketing to keep the dealership's service department top-of-mind.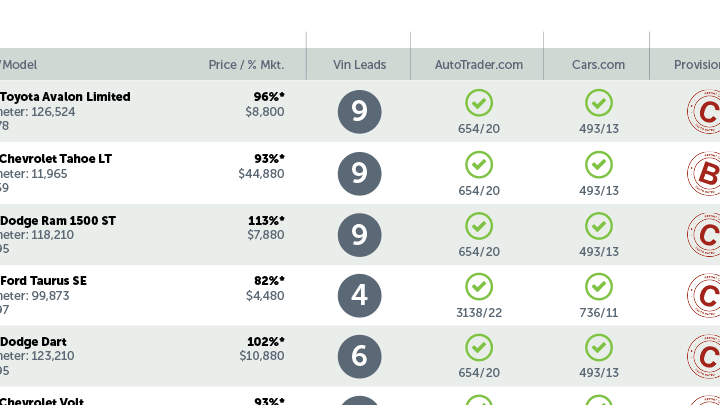 Cox Automotive Used Car Market Report & Outlook, 2018
Used vehicles are in high demand, but many popular models are in short supply. Combining customer wish list data from your CRM with vAuto's Provision alerts you when a vehicle you're appraising matches the list. Then you can notify the customer as soon as their desired vehicle is available.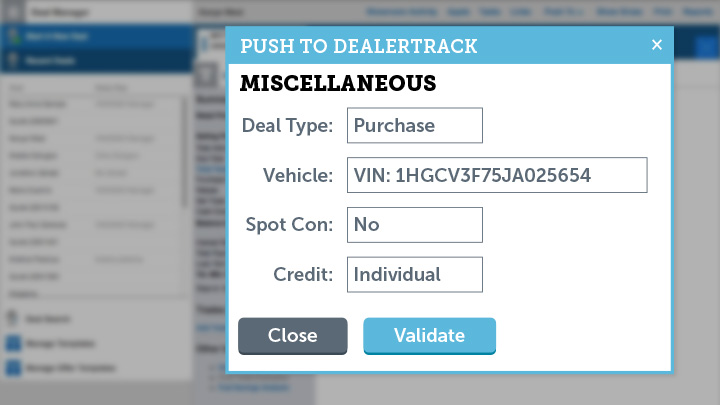 71% of customers prefer to research things like incentives, add-ons and trade-in values online. Sending CRM data directly to Dealertrack F&I allows your dealership to send buyers personalized information about their deal to save time in-store and encourage informed purchases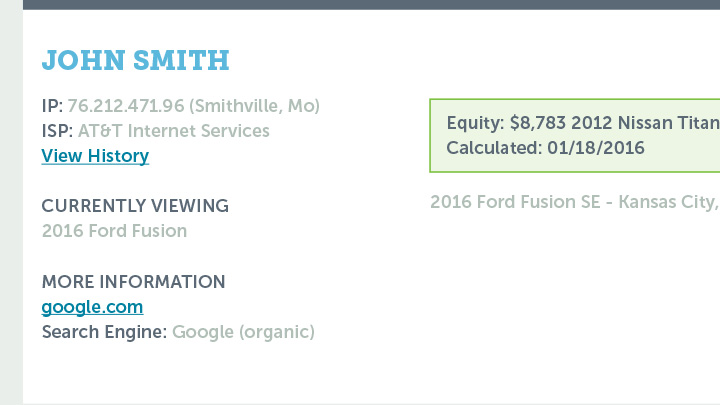 Global Data Management Benchmark Report, Experian, 2018.
Approximately one-third of customer and prospect data is inaccurate in some way. Collecting data directly from leads and customers via your Dealer.com website and integrating it with your CRM data helps ensure that information is correct and up to date.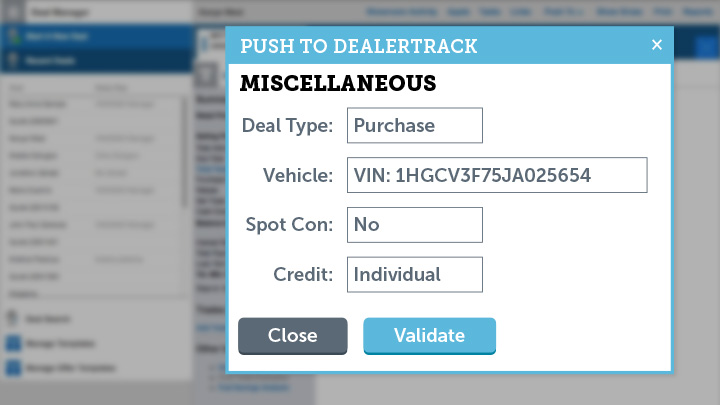 Global Data Management Benchmark Report, Experian, 2018.
34% of businesses working to improve their data management are doing it to improve compliance. Integrating CRM data with Dealertrack F&I helps increase data accuracy in the financing phase by eliminating duplicate data entry, which can in turn reduce compliance risks.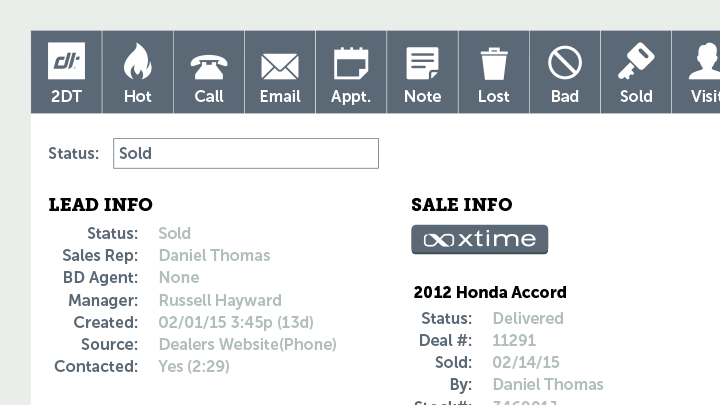 Global Data Management Benchmark Report, Experian, 2017.
56% of companies cite human error as the biggest cause of inaccurate data. Integrating your CRM data with Dealertrack DMS helps eliminate errors that can result from re-entering customer information and speed up the deal-making process by carrying over information about customer preferences.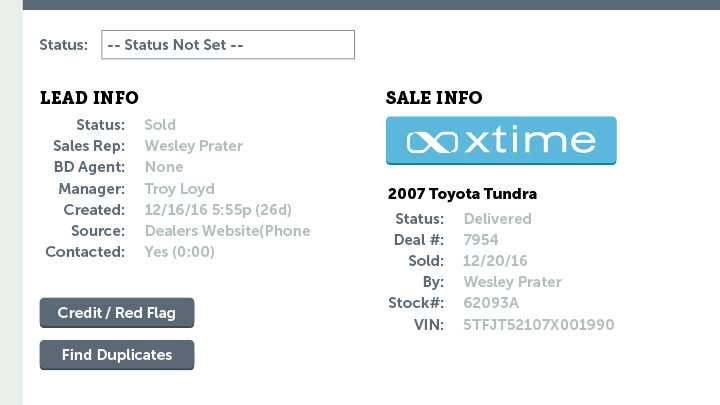 NADA Average Dealership Profile, July 2018.
The service department is responsible for 49% of the average dealership's gross profit. To ensure that your CRM is funneling all customers to the service lane, use the Xtime integration to schedule their first service appointment on the day of sale. The same customer data can then be used for ongoing service marketing.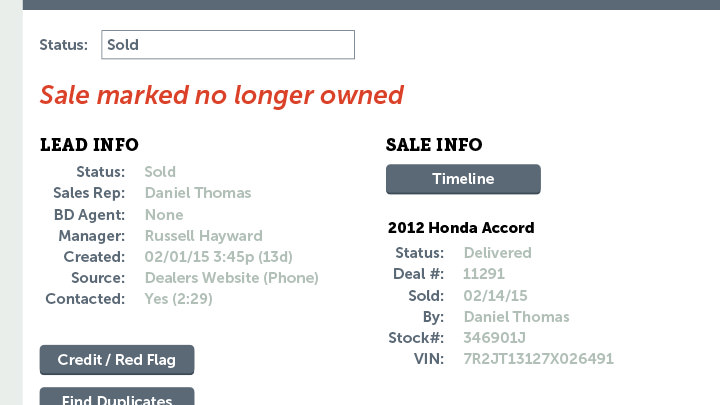 Global Data Management Benchmark Report, Experian, 2018.
73% of companies collect data from their website, but think of the advantages of collecting data from other websites where your customers are browsing! Combining your CRM data with Autotrader data gives you valuable information to help address your customers' needs more effectively.
WHY INTEGRATE WITH VINSOLUTIONS?
to create a better, more efficient customer experience.
Reduce duplicate data entry
to improve your team's productivity.
Get more value from your investment
with actionable insights aggregated across platforms.
Extend the functionality of Connect CRM with the vendors below. Click the company logo to learn more about their integration. If you are interested in becoming an integrated partner please visit our Developer Portal.

Aptivada - Is a marketing and promotional company that offers a wide variety of tools that grow and engage a dealerships client base, by using, sweepstakes, surveys/quizzes, userbase/data management, metrics & analytics and more.

A2Z Sync - An intuitive software platform that optimizes time and efficiency within the desking and menu process in your store where 98% of transactions take place. Designed by automotive leaders at Schomp Automotive and customized to fit every Automotive Group.

Detroit Trading - headquartered in metropolitan Detroit, is amongst the world's foremost aggregators of "In-ˇmarket" automotive shopper intelligence, providing data to original equipment manufacturers ("OEMs") and dealers that is responsible for more than 30,000 vehicle sales or $1 billion in monthly car sales.

IntellaCar was created by a passionate team of automotive specialists with decades of experience — developing breakthrough OEM and dealership solutions that deliver powerful results.
IntellaCar is committed to helping dealers improve the customer experience that drives sales.

Prodigy is a leading digital retail company working with some of the largest and most sophisticated dealerships in the country to bring sales efficiency to their dealership. We're based out of San Francisco and backed by some of the best tech investors in Silicon Valley such as 8VC and Battery Ventures.

Quant Auto helps dealers to maximize lead output from their website, third-party vendors and other marketing campaigns including AdWords. Quant Auto tracks internal lead handling, sales calls and overall closing process, works with vendors and sales force, provides accurate performance data for management decisions.
Additionally, Quant Auto provides ongoing performance monitoring, email updates, dealership meetings, sales staff training and interacts with dealer vendors.
Data automation and attribution as well as active participation in dealership sales and marketing initiatives result in increase of lead volume and dealership sales.

In 2017, Quotible was founded by 17yr Las Vegas local automotive retail veteran, Wesley Gregg, and Nick Kaptain to help automotive dealerships streamline their lead response process.

SnapCell is a video marketing company providing video apps for iOS (Apple) and Android devices. We have designed a video marketing solution specifically for the automotive industry. Based out of Fort Lauderdale FL, we offer the best automotive video solution for sales and service in the market.

Tagrail - Delivering a great experience is hard work. TAGRAIL makes it possible by systematically engaging everyone: your customers, your frontline, and your leadership. With a seamless API integration with Vinsolutions all the information captured in the platform will be available in your CRM. No more duplicate entries.

Tekion Automotive Retail Cloud brings all core operations in one, seamless end-to-end platform - Variable Operations, Fixed Operations and Back Office. Our software is powered with the latest in Machine Learning and AI layered on an infrastructure built for your organization. Tekion integrates with the VinSolutions Lead APIs to pull leads from VinSolutions.
Gubagoo Chatsmart is a powerful automotive messaging platform that helps dealers communicate with consumers. Connect easily through multiple channels, like Facebook, Apple, Google, and SMS. On your website, dynamic greeters personalize the conversation for each visitor. ChatSmart is proven to boost online lead conversion, while improving the customer experience. The integration with VINSolutions enables the Gubagoo system to post leads directly to VIN, and update those leads when there are additional customer conversations through the Gubagoo platform.

CallerCX powered by Proactive Dealer Solutions integrates its call tracking and speech analytics tool with VinSolutions to push inbound and outbound calls into your CRM. The software uses AI-powered machine learning to breakdown the call and provide actionable insight to our dealership users that would improve CRM utilization. For each call that comes into the dealership, the software utilizes AI to classify the call (i.e. sales, service, parts, finance, etc.), transcribe the call, summarize the call and score the lead, as well as provide 100+ data points on what occured on the call.

Roadster's mission is to make the process of car buying and selling better for everyone involved. They do it by offering Omnichannel Commerce solutions, which deliver the same seamless and streamlined shopping experience as customers switch between a dealer website and store. By partnering with VinSolutions to directly post lead and event updates to the dealer partners' CRMs, the burden of duplicate leads is eliminated.

CallRevu helps thousands of automotive dealers in the U.S. and Canada cultivate the customers that make it into the showroom after having a great experience on the phone. By providing local and toll-free numbers to place on all ads, we track, listen, summarize, alert, and report on dealerships phone calls to monitor call performance. With the robust data we collect, we coach on how to enhance the caller's experience and improve the bottom line of dealerships. CallRevu leverages the VinSolutions Call Tracking API and Click to Call functionality.

Outsell offers the only Virtual Customer Engagement platform for the automotive industry, creating an individualized consumer experience through AI-driven marketing automation that drives increased profits across sales and service. Its proprietary technology harnesses massive amounts of data creating accurate and powerful consumer profiles that engage customers and prospects exactly where they are in their individual lifecycles. That's why Outsell is the trusted platform for over 1,500 dealers representing all major automotive brands.

Quickpage, leveraging the Lead Management API plan with VinSolutions Quickpage creates a unique buying experience unlike any other video email tool that will instantly set you apart from your competitors. In today's digital retailing landscape, video is a must and Quickpage makes it easy for your team to record, send and track video messages to leads and customers.

CallDrip instantly converts your leads into phone conversations. We get consultants on the phone with your prospects in under a minute, building rapport and launching the sales process with momentum. With the integration between CallDrip and VinSolutions, all the information gathered on inbound and outbound calls will be available in your CRM, eliminating duplicate entries and stopping the clock. We've also integrated our Click-to-Call functionality to monitor ongoing conversations and update those leads in the CRM.

Matador is a customer engagement platform that will help you sell more by facilitating meaningful conversations with your customers.Matador lets dealers increase engagement and responses rates by leveraging automated follow up sequences that you can personalized per lead source. The CRM integration allows you to keep visibility over the customer interactions Matador generates on your behalf. Those responses are now displayed as a note on the existing opportunity.