Watch just about any sitcom and you'll notice something: when everything goes wrong for the main character, it's almost always because there's been a miscommunication. Sometimes aliens or zombies are involved, but usually it's a standard case of mixed signals between two people.

Miscommunication is a common source of conflict for film and television writers because it's a common source of conflict in our lives. Look at the many ways interpersonal communication has evolved in recent years. We can get ahold of anyone, anywhere. Yet we still manage to send the wrong signals. When it's a "What time are we meeting again?" text sent to the wrong friend, you might miss the movie. When it's a thousand offers emailed to the wrong prospects, you will lose a lot of business.

Dealerships have more opportunities than ever to connect with customers through email thanks to technology like TargetPro, which offers powerful email automation and segmentation tools. But dealers often fall short of making that email connection meaningful. The more you take advantage of those opportunities — and the technology that makes connecting more efficient— the more you'll stand out from your competitors.

Here are three ways to make sure you never miss the mark in your automated emails:

Prepare to Get Personal
Something we see all the time is dealers resting on their laurels with their email campaigns. They think they have a great offer so they over-use it: Every customer gets the same reminders, the same messaging — but the messages don't account for the differences in customers' place in the buying cycle, their preferences or their lifestyle.

Change your mindset from mass email campaigns to segmented email campaigns. Getting something relevant into your customers' hands once a month is a good goal to start with. It doesn't have to be a sale or a coupon; it could be information on safety ratings for a new minivan, or tips for how to get better gas mileage during summer road trip season. Just make the connection and make sure it's relevant to the recipient.

Make New Friends, but Keep the Old
Customer acquisition is historically a top priority for dealers. It's a big investment of time and money, so you've got to do it right. But don't focus on customer acquisition at the expense of customer retention.

If you're a newer dealership, you probably don't have a lot of prospect contact info to work with yet. That's alright; you can use direct mail, social campaigns or events to start gathering email addresses — but don't stop there. Look for critical indicators that help you segment new leads accurately. Then focus on building lasting relationships with each segment. Soon, customer retention will help pay for customer acquisition.

If you're not a new dealership, take a look at your customers marked as one-time sales. If those customers are not hearing from you, they won't be motivated to spend more money with your dealership.

Test, Tweak, Repeat
Of course, email automation isn't helpful if your emails aren't compelling or appealing.

Too often, dealers devalue the message and design of emails, usually because the creative seems like an unnecessary cost. You have to look at email marketing as an investment rather than an expense. When you don't have expert resources in-house, outsourcing the creative and/or the data analysis is your best option.

Don't be afraid to test and tweak your emails — just make sure you focus on one thing at a time. If your open rate is low, changing up your subject line might help. If people are opening the email but not clicking through, try a different call to action. If small tweaks don't make much of a difference, it could be the message that needs a closer look.

Drip campaigns evolve along with your customers, so never go too long without looking in at the results.

Here's the bottom line: Your business is not a sitcom where a new miscommunication every week is something to laugh at. Use the rapidly evolving technology and avenues of communication to make new and lasting connections with customers.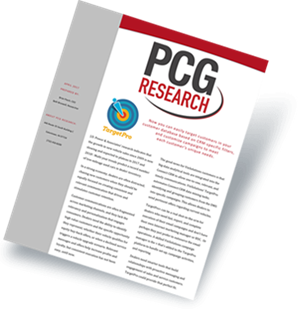 Download the PCG Research report on TargetPro and learn the benefits of data-backed marketing automation.
Download the Report